DBA1: Free PostgreSQL Course In Minsk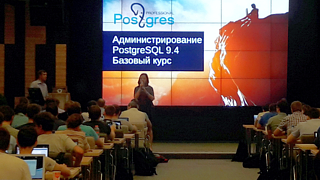 In July 2016 in Minsk, the capital of Belarus, Postgres Professional held educational course for PostgreSQL users and administrators. Pavel Luzanov - one of the authors of the course, the director of educational programs of our company - was providing workshops and lectures.
          DBA1 course was held 11 times, but the "Minsk tour" is the first experience of our educational activities abroad. Thus, DBA1 is now reached the international level.
          Our local partner - the «Game Stream» company - professionally coordinated technical and organizational part, they also provided course announcement and registration. Lots of people were interested to attend our course: one hundred and fifty participants, including students, IT-specialists, administrators and developers, jouned lectures and workshops.
We do thank the «Game Stream» company for perfect organization of the course.
          The DBA1 course in Minsk was free of charge, as well as all DBA1 courses already held by Postgres Professional, participants needed only to register.
          Please find below pictures from DBA1 course in Minsk and also few useful links.
← Back to all articles